I'd like to start off my saying thank you. to mother earth. for giving us a nice sunny day. even though its unbearably hot and humid, its better than the rain that started off the summer and the harsh winter that seemed to last a lifetime.
oh boy.. ohkay.
well, i've become addicted to Bravo reality shows. DON'T TELL. but The Real Housewives, Project Runway, The Fashion Show... you name it, i'm probably watching it. So when i saw commercials for
this
show i was quite excited, thinking to myself, "Yes! its like the Real Houswives, but with people my age!" oh, the exciting life i live... anywho, NYC Prep premiered last night. I was so excited to watch it after i finished
this
and
this
, i was pumped. hot guys, NYC, fashion, a dream come true! (the life i wish i was living...) anywho, after i tuned in, this is what i thought. the play by play;
kelli
- i envy you for always getting the guy's numbers and living in NYC... alone.
sebastian
- all you talk about is hooking up with girls. seriously. its obnoxious..
camille
- i think its good that you worry so much about your grades. i assumed that everyone in the show would just party. all. the. time.
PC
- honestly, i think you're just stuck up and rude. and obnoxious. ugh.
Jessie
- I think your 'relationship' with PC is very unhealthy... i can totally tell that you're jealous when he flirts with other girls but then you try to hook him up with people... i just don't get it.
taylor
- i think you're definitely the most relatable to the 'average teen.' you're mom cares about what you do and you just want to fit in with the 'in' crowd. but i think sometimes, you're just trying too hard... i do like you better with sebastian than kelli, though (:
ohkay. i'm done with that. hah.
still speaking of television, i've been watching the Game Show Network more. i just love the classy-ness of old television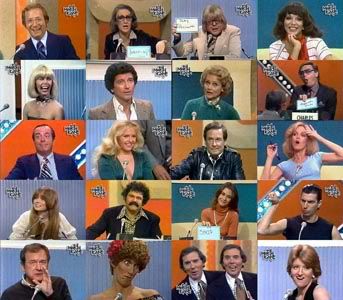 MATCH GAME :D
Happy summer !